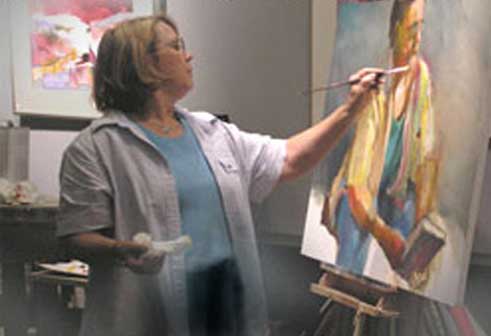 Maggie is a very talented and well trained painter whose works and teaching programs are being called masterful.Her art education includes 12 years of classical Chinese Brush Painting under Chow Chian Chiu (Walter Foster Books on Chinese Painting) and I-Hsing Jiu, Washington, D.C..She trained (weekly) for 8 years in an exclusive group of 5 artists for figure drawing and painting under European & South America trained figure painter, Roberto Martinez.She has an A.S. degree in Graphic and Web design, taken numerous workshops and classes with top-seeded watercolor artists and independent art school programs for figure, watercolor, oil painting and drawing.  She now teaches classes locally in oil & acrylic, figure & portraiture, watercolor and drawing.
Since moving to the West Coast of Florida in 2010, she has illustrated Rachael' Island Adventures (5 children's books) and Highway Antics.
Currently: Maggie is concentrating on creating a new body of work in Englewood, Florida.
Her new studio (Palette Pals Studio) is open for private instruction and open classes are taught at Englewood Art Center.
2016: She was chosen to be included in the top 20 Master's Paradise Paint Out in Islamorada, Florida in January.
She received "Signature" status with Florida Suncoast Watercolor Society (2016) and recently taught workshops in Boca Grande and Cape Coral.
She juried the North Port Miniature Exhibition 2016, the Rotary Club "Arts Festival on Dearborn Street" (2013, 2015. 2017), Englewood, Florida; the 2015 Annual Spring Membership Exhibition at the Venice Art Center, Venice, Florida and the 2013 National Art Expo in the Florida Keys.
Maggie was selected in 2015 to show in the "Winner's Circle – Best of the Best" exhibition by the Art Council of Southwest Florida (Visual Art Center, Punta Gorda, Florida
Career History
Designer for Art Impact – 28 Murals (2 floors + 3 reception halls) Bellevue Baptist Church, Memphis TN 2007
Artist in Residence – St. Jude's Children Hospital, Memphis TN 2007Co-Designer with Claudio Leon-Perez (Art Impact) – 28 Murals (main floor + 1 reception hall)
Germantown Baptist Church, Memphis TN 2008
Workshop Instructor, La Romita School of Art in Terni, Italy.
Honorary Selection
REAL WORLD – Reality TV, Miami, Florida
Juror – Englewood Rotary Art Festival 2013 – 2015
Juror – Islamorada Expo 2012
Juror – Coconut Grove Art Festival 2008
Juror – Coconut Grove Art Festival 2005
Juror – Cheyenne National Exhibition 1998
Exhibitions
Madison National Watercolor Exhibition
Master Class Artists Invitational – Art League of Marco Island 2000/2004
Southeast Watercolor National Exhibition; Honorable Mention
Northeast Watercolor National Exhibition; Honorable Mention
Florida Watercolor Society; Winslow Homer Award
Florida Watercolor Society; Pearl Art Award
Miami Watercolor Society – Repeated Best in Show
Gold Coast Watercolor Society – Repeated Best in Show
Solo Shows
Ocean Reef – 2004 – 2011
Santo Domingo
Paris, Illinois
Columbus, Ohio
Florida
Indiana
Colorado
Corporate Collections
St. Jude Children's Hospital, Tennessee
Bellevue Baptist Church, Tennessee
Germantown Baptist Church, Tennessee
Phillips Management Co., Inc; (Portrait)
The Reefs Hotel, Bermuda
American Consulate, Santo Domingo
Danish Consulate, Copenhagen
Transco Oil, Texas
Bascom Palmer Eye Institute, Florida
Sunrise Medical, Florida
University of Illinois, Illinois
Christiania Inn, California
Weisbaden Hotel, Colorado
Meerdink Gallery, Colorado
Coconut Grove Art Gallery and Interiors, Florida
Private Collections
Juan Luis Guerra, Latin Grammy Winner, Santo Domingo
Nora Vega, Santo Domingo
Dynielle & John Daem, France
Kathy Lee Gifford, NY
Portraits
Donna & Robert Craig, FL (3 commissions)
Karen & Derek Conklin, OH & FL (4 commissions)
Bill & Joycee Stansky, FL
Kristin Conti, FL
Mandy Patinkin, NY
William & Maureen Stavola, NJ
Shiela Kuhl, FL   Owner: Coconut Grove Gallery
Monica Phillips, NC & FL
Kermit Phillips, NC & FL
Matthew & Martha Forelli  , CN
Laura Applin, FL
Lisa & Trevor Doughtry, IL
Mary Ruth Welch Staadt, IN
Michael Chenoweth, IN
Larry & Deborah Brady, WA
Gail B. Noyes, MA
Deputy Sheriff R. Nelson, CA
john & Marianne Detgen, NC
Bob & Shay Griese (Miami Dolphin)
Tom MacKay, NJ
James McClellan, CA (not related)
Sally & Thomas Savage, MA & FL
Marc Brawer, FL
Peter Noyes, MA
Mary Terese Enk, MI
Marc Brawer, FL
Kristin Conti, FL
Derek Conklin, OH & FL
Bill & Joycee Stansky  
Jennalie & Joel Shepard, FL
Gert & Sheldon Mann, FL
Lyle B. Thompson, FL
Nina & Frank Patterson, FL & VA
Paul & Jane Bishop, Ohio & FL
Gail & Bradley Noyes, MA Portrait
William & Molly Baker, MI & FL
Helene Peddle, FL
Gail & Joyce Guyton, MD
Barbara Haigh, MI
Pat & Dottie Roddy III, TN
Hardwick & Betsy Caldwell, Jr., TN
Irwin & Carol Belk, NC
Arthur & Nancy Dimsdle, KS & FL
Richard & Valerie Elliott, Jr., DE
Nancy & Neil Rohan, ME
Robert & Diane Morosky, OH
Betty Richardson, FL
Paul & Elizabeth Skudder, NY
Ann Spoor, CN
Frank Shooster, FL
Gerald & Maggie Mershon, CA
John Gentry, CA
Sherry & David Gentry, CA
Diana Stems, FL
Ms. Esther Meacham, OH
Linda & John Caden, FL
Judy & George Haight, GA
Judge Steven Seymour, IL
Dr. Friedman, FL
Dr. Elizabeth Gilmore, FL
Dr. Ruben Boyijan, IL
Henry Katz, FL
John Rosser, FL
Michael Winnenborg, IL
Michael Radell, IL
Linda Coifman, Puerto Rico
Barbara & Jan Pecce, Puerto Rico
Marion & David Meacham, IN
Betty Richardson, FL
Joanne Wills, VT
Signature member
Florida Watercolor Society
Gold Coast Watercolor Society
Miami Watercolor Society
Published
American Artist and Artists Watercolor Magic Magazine
'Maggie's Corner' – Cheap Joe's Art Stuff  2006
"Artists Express – Secrets of the Obedient Brush"
Nominated Teacher of the Year – American Artist Magazine 1993

Art Director and Instructor (Bakehouse Art Complex) of art programs for street gangs and

Instructor of art programs for violent youths – Agape (Florida International University)
[/et_pb_text][/et_pb_column][/et_pb_row][/et_pb_section]